THE BIGGEST COMEDY CLUB IN THE SOUTH ...established 2012!
DECEMBER SHOWS ARE SELLING VERY FAST
FILL YOUR FESTIVE SEASON WITH LAUGHTER AND CLICK BELOW FOR TICKETS!
December 10th - 75 tickets left
NYE - 57 tickets left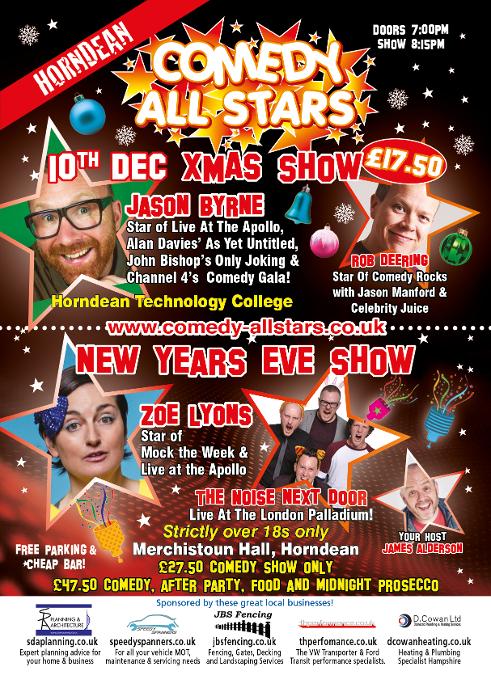 YOU CAN TRANSFER ANY UNUSED 2020 TICKETS TO OUR 2021 SHOWS!
MESSAGE US AND WE WILL DO THE REST!
(Tickets cannot be refunded and any unused tickets can be transferred to any 2021 show,
but are only valid until November 2021 - so please use them this year!)
IF YOU HOLD UNUSED TICKETS FROM 2021 SHOWS,
WE CANNOT REFUND, BUT YOU CAN TRANSFER THESE TO ANY 2021 SHOW
AND THEY WILL BE VALID UNTIL NOVEMBER 2021


We cannot give refunds under any circumstances, but will ALWAYS exchange your tickets to any other show of your choice, with 48 hours notice..
Comedy All Stars is a show like no other in the South. Whether you're looking for a fun night out with your other half, with a group of work friends, or your mates from the pub, Comedy All Stars is priced so that everyone can enjoy a top class comedy show featuring people off the telly, without going to a big city!
Why not come along? For little more than the price of a gallon of fuel, you can spend a whole evening in the company of famous comedy faces, enjoy the cheap bar, free parking and great pre-show snacks, and all within easy reach of the A27 and A3, to get home easily after laughing your socks off with friends and family.
We look forward to seeing you there!
*** PLEASE NOTE THIS IS AN OVER 18s EVENT AS NOTED ON ALL MARKETING MATERIAL ***
YOU CAN ALSO BUY TICKETS FOR SHOWS FROM THE FOLLOWING OUTLETS:
JENUINE STYLES, HART PLAIN AVENUE, COWPLAIN
THE OLD ENGLISH SWEET COMPANY, WATERLOOVILLE SHOPPING PRECINCT
HORNDEAN TECHNOLOGY COLLEGE, BARTON CROSS, HORNDEAN